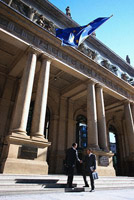 Letrix USA, Inc. was created to meet the needs of growing identification and recognition markets. Our job is simple:
- Provide easy web portal.
- Provide a timely delivery and a quality product.
Our staff of experienced professionals that are typically involved on each order include: account representatives, designers and customer service.
Currently we offer three product lines:
Letrix USA Awards include a selection of mid-to-high end corporate awards and gifts. All products could be customized with your text or we offer a full catalog of sample texts.
Letrix USA Signs include a wide array of products from outside to inside signs, as well as, ADA and specialty signs. We offer detailed sign specification in the form of a downloadable PDF and CAD files.
Letrix USA Badges include up to date designs and a wide selection of materials.
Letrix USA, Inc